Handcrafted in Canada with love for your best friends
Arbutus Fleecey - Charcoal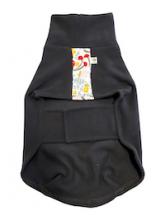 Stay snuggly warm in style!
The Arbutus Fleecey is designed to fit smoothly under a coat for extra warmth without rubbing or causing irritation.
It's also a pretty cozy jacket on it's own!
* Made of Repreve® Recycled PET fleece with an organic cotton printed trim/lining
* Velcro tab closure around the belly
* Made in Canada with love for your best friend
Shipping Details:
All in-stock items ship within 48 hours.
Inventory is updated daily.
Cart
Your shopping cart is empty.