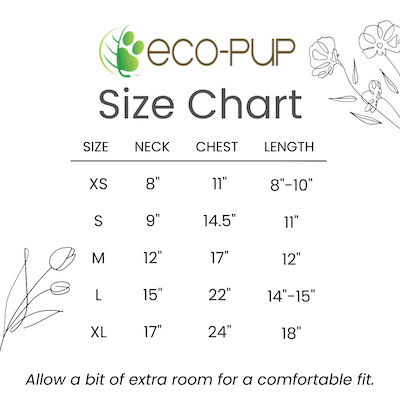 PLEASE NOTE: This size chart is only for a guide and is not the absolute size of each item. Clothing sizes may vary.
If your pet's measurements fall in between two sizes, we suggest ordering one size larger to be safe. Please contact us to verify if you have any concerns.
It is highly recommended our customers review our sizing guide prior to making any purchases of Eco-Pup's dog apparel and accessories. Reviewing this guide will help you determine how to measure your pet, especially if you have never dressed your dog in clothing before. It is important not to guess the size because you want your dog to be as comfortable as possible.
The directions below will show you how to accurately measure your pet for a length, neck and chest measurement. Please note it is not recommended to determine your pet's size based on breed, weight, or previous purchases you may have made elsewhere. As a general rule of thumb for selecting dog clothing sizes, the most important measurements are the neck, chest/girth and the body length.  This size chart is only a guide and not the absolute size of each dog clothing item as it depends on the fabric and design; sizes may vary.
Neck Measurement
The neck measurement is taken around the dog's neck as you would for a collar.
Allow a bit of extra room for a comfortable fit.
Chest Measurement
The chest measurement is taken around the dog's girth at its widest point, all the way around, which is typically right behind the front legs.
If the dog has a large girth, going up one size larger is recommended.
Length Measurement
The length measurement is taken from the base of your dog's neck to the base of the tail.
The body length for products such as jackets and coats are typically designed to be close to the base of your pet's tail. While other products like t-shirts and hoodies should be within 2 to 4 inches from the base of the tail.
We recommend using a soft measuring tape when determining your pet's measurements. You can usually find it at craft and hobby stores, as well as your local sewing/fabric store or Ikea furniture stores. If you do not have one, you can use a piece of yarn or string and measure it flat up against a ruler.
Please refer to the product description for any additional information to help you determine the best size for your pet.
If you need additional assistance with sizing, or have any questions please contact us here.
Disclaimer
Please note that wear and use of dog clothing should always be supervised. Never leave your pet unattended while it is wearing clothing. Eco-Pup's sizing guide is a reference guide meant to help you determine your pet's measurements. Read through it carefully to help your dog find the appropriate size. For pets with injuries or sensitivities, please consult your veterinarian prior to them wearing any garments.