Handcrafted in Canada with love for your best friends
Pacific Spirit Raincoat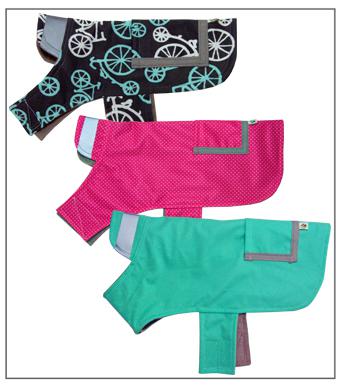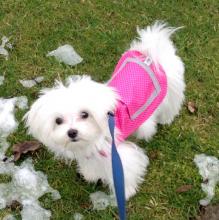 Keep your best friend dry when it's raining cats and dogs in a soft, lightweight Eco-Pup raincoat!
* Waterproof PUL fabric shell with an organic cotton flannel lining
* Reflective tape on the collar for safe walks
* Pocket for important treats or bags
* Velcro closure at the chest and neck
* Harness hole for leash attachment
* Made in Canada with love for your best friend
Choose from three colors: Pink Dots, Aqua, Espresso Brown
What is PUL fabric?
Polyurethane Laminate, or PUL, can be said "P-U-L" or "pull". This laminate-backed fabric was originally developed for the medical community, but it's softness, flexibility and water-proof qualities make it perfect for puppy raincoats. PUL was meant to be autoclaved so it easily tolerates high dryer temperatures and heavy use.