Handcrafted in Canada with love for your best friends
All Natural Paw Wax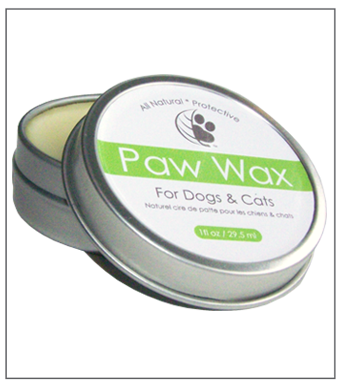 Available in 1oz or 2oz tins
Ideal for year-round use
Harsh weather conditions (extreme heat or cold) can cause your cat or dog to get dry/cracked paws. Help protect your best friend's paws from the elements with an all-natural paw wax. The Paw Wax creates a moisturizing, semi-permeable shield that is absorbed into the paws, creating an "invisible boot" while still allowing perspiration to escape through the toes. Simply apply the Paw Wax liberally to the paw pads and in-between the pads, and go! It is a safe, non-toxic way to protect your best friend's paws while they enjoy playing in the great outdoors. 
Perfect to apply before your dog or cat:
•is exposed to hot pavement (while running/walking with you)
•walks on snow and/or ice
•is exposed to salt and ice melters
•goes hiking with you
•hunts in rugged terrain
Made with all-natural ingredients: Sweet almond oil, shea butter, coconut oil and beeswax. Unscented and no preservatives added.
Keep away from extreme heat. Store in a cool dry place.
Handmade in Canada with love for your best friend.
Shipping Details:
All in-stock items ship in 2-3 business days.
Inventory is updated daily.
Cart
Your shopping cart is empty.