Handcrafted in Canada with love for your best friends
BunBun Dog PJs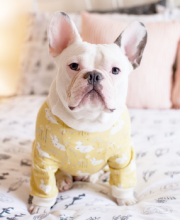 Only size Large left
Snuggle up with your best friend in these soft organic cotton onesie pajamas. PJs have a cute bunny print with a cream trim and cuffs. Perfect for minimizing shedding when your dog sleeps in your bed and on the couch.
* Buttons on the bum pocket (non-functional)
* Organic Cotton jersey
* Made in Canada with love for your best friend
Shipping Details:
All in-stock items ship within 48 hours.
Inventory is updated daily.
Cart
Your shopping cart is empty.